---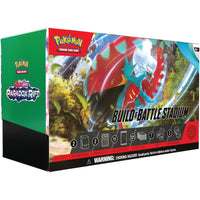 Pokémon TCG: Scarlet & Violet - Paradox Rift Build & Battle Stadium - PRE-ORDER (Releases 11/17)
The Pokémon Company International
Uncover the Anomalies of Area Zero!
Dive into the clouds and explore a land that appears to be unbound by time! With ferocious attacks, Ancient Pokémon like Roaring Moon ex and Sandy Shocks ex appear alongside artificial Future Pokémon like Iron Valiant ex and Iron Hands ex. Meanwhile, Garchomp ex, Mewtwo ex, and others Terastallize to gain new types, as Armarouge ex, Gholdengo ex, and more Pokémon ex join the fray. Adventure awaits as timelines collide in the Pokémon TCG: Scarlet & Violet—Paradox Rift expansion!
Enter the Pokemon Stadium-Ready for Battle! Build two decks with a friend-and then play right away! This Pokemon TCG: Scarlet & Violet-Paradox Rift Build & Battle Stadium contains a massive set of cards, including two Build & Battle Boxes. Each Build & Battle Box contains four booster packs and a 40-card deck that includes an exclusive foil card. You can play these decks right out of the box, or enhance them with cards from the booster packs. Get ready to face your opponents in the Build & Battle Stadium! The Build & Battle Stadium includes everything two players need to battle.
Inside this box, youll find:
2 individual Build & Battle Boxes, each containing a ready-to-play 40-card deck
Each deck includes 1 of 4 foil promo cards
3 additional Scarlet & Violet-Paradox Rift booster packs, so you get 11 in all
121 Basic Energy cards
6 damage-counter dice
1 competition-legal coin-flip die
2 coin condition markers
A collectors box to hold everything