---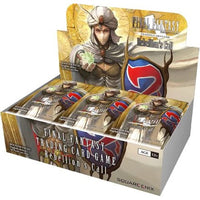 Final Fantasy TCG: Rebellion's Call Booster Box
Square Enix LTD
Crystals, which brought new battle strategies to FFTCG, join us once again in Rebellion's Call, and with the additional introduction of characters from BEFORE CRISIS -FINAL FANTASY VII-, the world of FFTCG evolves even further.
Rebellion's Call also includes premium versions of starter cards from TWO-PLAYER STARTER SET Golbez VS Cecil, which is planned for release on July 15, as well as premium versions of full art cards with new original artwork. The set is sure to be a must-have for collectors as well.
Legacy cards appear once again in this set, with particularly popular cards from past sets included as premium full art cards. In Rebellion's Call, the following three are included: Firion [6-019L], Veritas of the Dark [8-136L], and Y'shtola [12-119L]. These cards are not included as normal or standard premium cards.
■Card Count
Normal: 130 cards
Premium: 163 cards (of these, 22 are full art cards)
■New Art
Ryoma Ito: FINAL FANTASY TACTICS A2: Grimoire of the Rift
Akira Oguro: FINAL FANTASY IV: THE AFTER YEARS
Yukihiro Kajimoto: FINAL FANTASY V
Gen Kobayashi: FINAL FANTASY / FINAL FANTASY II
Toshitaka Matsuda: FINAL FANTASY
Fumio Minagawa: FINAL FANTASY XI
Miki Yamashita: FINAL FANTASY IV